AV Access Launches a New Plug-n-Play 4K AV over IP Solution to Help Users Build a Video Wall in Sports Bars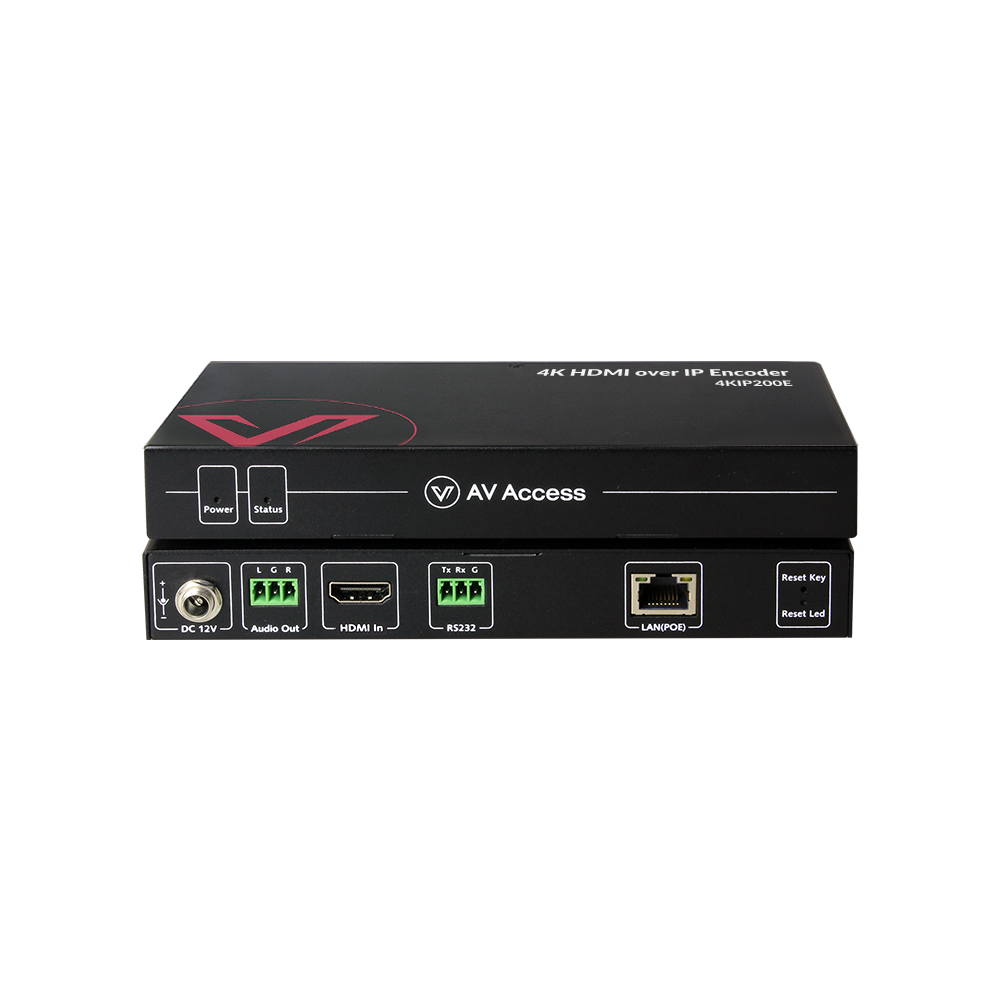 Nowadays, AV over IP solutions have become increasingly popular among audio/video project installers and integrators across the globe. AV Access's brand-new 4K HDMI over IP encoder/decoder is plug-n-play and requires no configuration on Ethernet switches, perfect for sports bar, house of worship, retail, etc.
The 4KIP200 4K AV over IP encoder/decoder is super easy to install and requires no configuration on the Ethernet switch. Users can build a video wall up to 8×8 within minutes just on their palms.
AV Access, a leading brand in the online market of the Pro AV industry, has introduced its brand-new 4KIP200 4K AV over IP solution recently. It is the upgraded version of HDIP100, AV Access's best-selling product in the same category.
The HDMI over IP codecs can work flawlessly with an unmanaged Ethernet switch, so users don't need to spend much time configuring a managed switch that they usually adopted before for AV over IP solutions. With its easy-to-use and plug-n-play features, 4KIP200 can be widely used in sports bar, shopping mall, house of worship, conference room, etc.
No Configuration Required, Truly Plug-n-Play Solution
The 4KIP200 AV over IP solution supports both unicast and multicast streaming, so it can easily work with universal managed and unmanaged Ethernet switches on the market. "Whether you are an installer or end-user, you can effortlessly complete installation, even if you were not exposed to any IP knowledge before," explained Bill Liao, CTO of AV Access.
The 4KIP200 AV over IP solution supports one-to-one, one-to-many and many-to-many applications. One pair of encoder and decoder can work together to transmit 4K ultra HD HDMI signal up to 394ft/120m. Users can also add up to 254 units of encoders or decoders to form a distributed IP matrix, which is far more flexible and cost-effective than traditional matrixes.
Whether in a sports bar or house of worship, users can install it to meet their needs of AV extension, distribution, switching, video wall and mobile centralized control. It enables their patrons or parishes to enjoy the best screen viewing experience possible.
Video Wall Support & Visual Control
With the intuitive and user-friendly VDirector App installed on a mobile device, visual control on palms can be quite easy. Users can connect a wireless router to deliver data from the codecs to the mobile device via the Ethernet switch.
With just a few drag-and-drop steps, users can perform matrix switching, or build a video wall up to 8×8 with different layouts. In addition to iPhone, iPad, Android smartphone and tablet, users can also install the "VDirector" App on a Windows PC for visual management and control.
What's more, this zero-configuration 4K AV over IP system supports the advanced H.265 video compression, audio de-embedding, RS232 pass-through, PoE and other functions.
"Now the 4KIP200 HDMI over IP encoder/decoder is only priced at $199.99 on our official site, with a 10% discount for over 10 units. Stocks are already limited," added Bill.
About AV Access
AV Access is the world's professional manufacturer and innovator of advanced Pro AV products and smart home office devices. As a contributing member of the HDBaseT alliance, we own strong R&D, supply chain and manufacturing capability, which guarantee our products are of consistently high-level quality and at competitive prices. Since establishment in 2015, it has long been our mission to offer ultimate audiovisual experience to the masses by delivering quality-assured and well-designed audio/video products at honest pricing. After more than 7 years' development, AV Access has evolved into a leading brand in the online market of the Pro AV industry. Also, we have provided localized product sales and technical support services to customers across the globe, like Europe, North America, Asia Pacific regions, etc. Learn more by visiting www.avaccess.com.
Media Contact
Company Name: Actions Global (US) Inc
Contact Person: Shane Jiang
Email: Send Email
Phone: +1-866-629-3923
Address:100 N HOWARD ST STE R
City: City of Spokane
State: Washington 99201
Country: United States
Website: https://www.avaccess.com/