Live Q&A with Matthew Lillard, Star of Five Nights at Freddy's on Game Jolt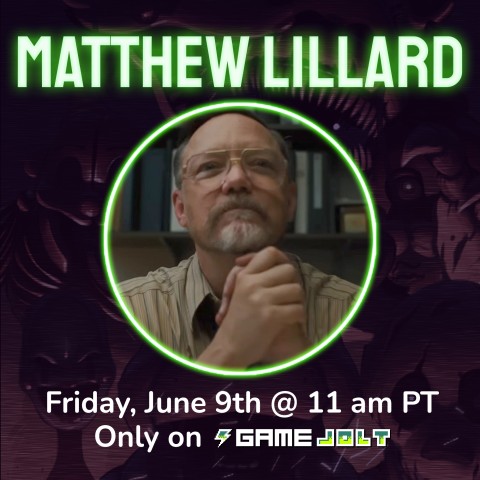 Game Jolt, the social app for gamers, is thrilled to announce an exclusive live event that will set both Five Nights at Freddy's and Matthew Lillard fans ablaze with excitement! Matthew Lillard, the extraordinary actor bringing the infamous character William Afton to life in the highly anticipated Five Nights at Freddy's movie on October 27, 2023, will be joining Game Jolt's CEO, Yaprak DeCarmine for a Q&A session with fans.
On June 9th, at 11am Pacific Time, gamers from around the world will have the unprecedented opportunity to engage with Matthew Lillard in a live interactive livestream hosted on the Game Jolt platform.
"Game Jolt is home to the world's largest active Five Nights at Freddy's community with 1.4 million members. We are beyond thrilled to have Matthew Lillard utilize our platform and livestreaming technology to directly engage with fans," said DeCarmine. "Providing unique and memorable experiences for fans worldwide, connecting them with their favorite creators, is the very essence of why Game Jolt exists."
Matthew Lillard, the acclaimed actor celebrated for his versatile performances as Cereal Killer in Hackers, Shaggy in Scooby-Doo, and Stevo in SLC Punk! Lillard's captivating presence is set to leave a lasting impact on the gaming community. As a passionate gamer himself, he will share how his love of games like Dungeons and Dragons and Magic: The Gathering have driven him to co-found his own gaming company, Beadle & Grimm's.
Participants will have the opportunity to submit their questions by joining the livestream to chat directly with Lillard in real-time.
Follow the Five Nights at Freddy's community on Game Jolt and join the livestream on June 9th at 11am Pacific Time here: https://gamejolt.com/realm/fnaf
For media inquiries, please contact Caroline Mestriner at [email protected]
About Game Jolt, Inc.
Game Jolt is the social app for gamers to discover and share content around their favorite games, comics, movies and music. With a passionate community of creators, Game Jolt continues to be the go-to destination for supporting artists, musicians and game developers from all over the world.
Media Contact
Company Name: Game Jolt
Contact Person: Caroline Mestriner
Email: Send Email
City: Los Angeles
State: California
Country: United States
Website: gamejolt.com/app