Joanna Mercado from The ELiTE Movement Launches '12 Ways To Have A Unicorn Life And Unicorn Business'
Joanna Mercado (The ELiTE Movement) launched her new program, "12 Ways to Have a Unicorn Life & Unicorn Business!"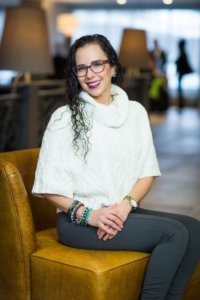 This course is designed to help you answer questions like:
Have you ever wondered if it is even possible to have it all?
Do you fantasize about a dream life AND dream business?
Is that even achievable?
Are you tired of feeling like you must compromise one area of your life in order to be successful in another?
Do you wonder what is the secret that allows others to have live a magical life?
And to create a framework you can apply to have a Unicorn Life and Unicorn Business.
Each week, the course concentrates on one tool (method) you can implement to transform your life, each week builds from the previous one. The way this 13 week course was created allows a +95% completion and 100% satisfaction guarantee, as it is the perfect balance between the tools (Go & Do) and the psychology behind our minds and behaviors.
Mercado shared, "You have magic inside of you, you only have to pay attention and let it shine!"
"Be YOU, Be a UNICORN!" said Mercado.
To learn more or join the new program, "12 Ways to Have a Unicorn Life & Unicorn Business!" visit: https://joannamercado.com/courses
During her 10 years at the Goodyear Tire & Rubber Company, Joanna traveled around the world supporting and coaching factories and leadership teams to develop more robust continuous improvement and quality perspectives and systems, implementing a sustainable way to deliver world class results and performance on the manufacturing floor.
She was also part of the startup of a green field plant in Pulandian, China where she was a key contributor in achieving a new facility launch with successful quality, safety, productivity, and cost performance. In that time Joanna supported 11 plants in North and South America. Her work is still being used to support their leaders in continuous development and progress.
Joanna has been a motivational and transformational speaker for 6 years, finding creative ways to engage and support the needed change in all levels of business organization. Working in 4 continents and 15 countries allowed her to gain a rich perspective of different cultures and the impact of those on effective leadership skills. Her observations about the modern corporate crisis and the need to focus on leadership development is what moved her to start sharing her own journey and tips on how to become an extraordinary leader. Joanna has spoken in multiple universities both in the US and internationally and is frequently a podcast guest where she shares her knowledge and experience with others in a broader way.
In 2019 Joanna coached and supported teams in Croatia and Norway as part of their Business Freedom Speaking Academy training, she was one of the team leaders and coaches that helped 100 people to learn and improve their communication skills and become extraordinary public speakers. Joanna was part of the board of directors of Habitat for Humanity and received the award "Rising Star" from the Women of Color (WoC) organization during their 2015 event in Detroit, Michigan. Currently she works as the VP of membership of Toastmaster International's Stow Club. Joanna obtained her bachelor's degree in industrial engineering from the Jesuit University Javeriana in Cali, Colombia and attended the ICESI University where she concentrated in depth on strategic management during her MBA studies.
About Joanna Mercado
Joanna is an experienced and passionate leader, speaker, coach, and transformational trainer. Not to mention a Bestselling author of two books in 7 countries. She enjoys helping others to discover the best version of themselves by facilitating workshops, speaking about leadership, and personal coaching.
During her 15-year corporate career she drove cultural change and implemented effective and sustainable operational excellence systems in Fortune 500 companies like Goodyear & PepsiCo. While in those roles she coached and trained managers, leaders, and teams on 4 continents and in more than 15 countries. Her focus is on the development of teams to become effective and individuals to perform at their best. Through her process she is able to deliver results in organizations that include creating clear accountability, motivation, and respect of teams and co-workers. All of this makes your organization more effective and productive.
Joanna led the cultural and performance transformation (Operational Excellence) of the Great Lakes region in PepsiCo. She led, taught, coached, and mentored over 1,600 employees in 8 facilities, through the process to implement a lean and bottom-up method to lead and run the business on a daily basis.
As a result of her leadership, the plants reached savings of 8M dollars, increased productivity by 15% on average, developed and promoted leaders within, and improved their Organizational Health scores. The plant's leadership teams were able to improve their progress and KPI results by 146% by implementing a sustainable operational system. She supported the leadership of the region to develop and inspire hourly associates to step up and take leadership roles, gaining an engaged and driven workforce even in the facilities with a union environment.
To learn more about Joanna Mercado, please visit: http://www.joannamercado.com. Or, follow her on:
Facebook: https://www.facebook.com/joannamercadospeaks/
Instagram: https://www.instagram.com/joannamercadospeaks/
LinkedIn: https://www.linkedin.com/in/extraordinaryleaders/
YouTube: https://www.youtube.com/channel/UC6ZG4Zs0WniDi_FY8eSnpBQ?view_as=subscriber
Media Contact
Contact Person: Joanna Mercado
Email: Send Email
Phone: 3303220329
Country: United States
Website: https://JoannaMercado.com