Artist 'KNOWLEDGE THE EXTRAORDINARY' is riding high on the success of his new single 'OMG Camgirl'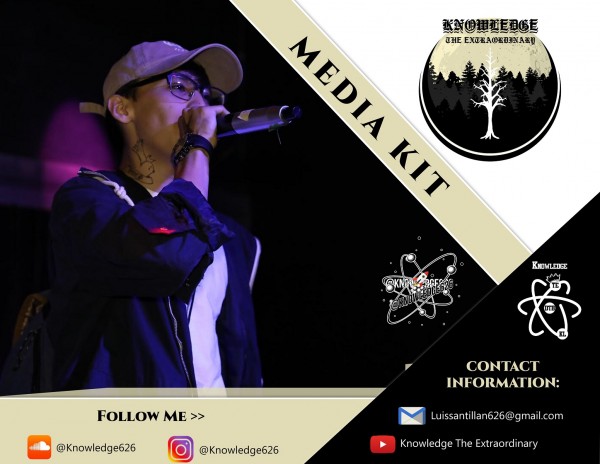 Knowledge The Extraordinary is a Los Angeles based artist who is rapidly making his way through the music industry with his remarkable vocal skills and hard-hitting lyrics. He started making music a few years back and has released multiple singles on various music platforms including YouTube and SoundCloud, garnering thousands of views combined. He is excited to see the response received on his latest release 'OMG Camgirl' that has gained over 31k views so far. Reposted by "NO JUMPER" gaining more than 50k plays on SoundCloud and continues to gain popularity among the rap music lovers. He has about 32 tracks on Soundcloud, each with great quality production sounds and groovy beats with an amazing Alternative style of sound.
Growing up, Knowledge The Extraordinary developed a deep interest in rap music. He was highly inspired by Edgar Allen Poe, Alan Watts and Tupac to write poetry and create rhymes. With time, he started practicing his favorite rap songs, mugging up the lyrics and performing in front of the mirror then towards big crowds. He constantly worked hard to master his craft and as he grew up, he was pretty sure that he wants to become a Rap Artist. Through his music, Knowledge wants to send a positive message. He says; "You can do anything you want. Anything's possible & most importantly for that lonesome thought you ever had, you're not alone. I understand & know that thought but you're never alone. Smile life is beautiful so are you."
Knowledge The Extraordinary had an amazing and adventurous journey into the music industry so far. It's been a little difficult too but he believes in the hustle and keeps grinding to make his own space in the rap scene. Talking about whether he wants to stay independent or get signed by a label, the artist says, "I'm not signed but I'm aiming for; Bobby Boy Records, Logic's label. Visionary Music Group as well if they're interested. Also Sumerian Records, Epitaph Records, Fearless Records or Capitol Records (any Alternative / Indie / Emo / Pop / Rap / Hip-Hop or Independent labels) will be great. I rather not be independent, and use the industry as a tool."
Listen to the music by Knowledge The Extraordinary on Soundcloud and watch his music videos on YouTube.
Media Contact
Company Name: The Extraordinary Company
Contact Person: Luis Santillan
Email: Send Email
Country: United States
Website: soundcloud.com/knowledge626