The Music Specialist Adds Marketing, Promotion, Design, Video, Studio, PR, and Publicity to its Arsenal
KICKS OFF 50+ YEARS IN THE MUSIC INDUSTRY AND ADDITIONAL SERVICES WITH NEW WEBSITE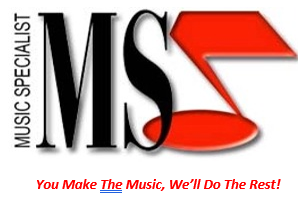 January 22, 2020 (Atlanta, GA) – The Music Specialist announced today that it has expanded its services to include marketing and promotion, design, video, studio, press releases, PR, and publicity to serve its artists. Prior to the enhancement, The Music Specialist specialized in digital & physical international distribution, content licensing, mobile streaming, publishing administration, royalty collections, consulting & business coaching, and international business introductions, which will all be continued.
Allen Johnston, CEO of The Music Specialist, stated, "People say they have a one-stop shop, but we really do. Our goal is tooffer our clients everything they need to be successful in one place. All they have to do is make the music, and we'll do the rest." With more than 50 years of experience and expertise in the music industry, and over 400 years of collective experience via collaborations and partnerships, The Music Specialist is confident that it can meet the needs of artists of all genres anywhere around the globe.
"The Music Specialist opened its doors in 1994. We've grown and changed with the industry, so in addition to being completely knowledgeable about the music business, we are technologically savvy and adept with respect to social media.
"We know where it's been, where it is now, and will always stay on top of where it's going. We're ready now. All services are available immediately."
Johnston also announced the creation of a new website for The Music Specialist at www.musicspecialist.biz.
Contact The Music Specialist by calling +1 (404) 734-5566 or +1 (404) 946-8078, or by eMail at [email protected].
Media Contact:
Michele Wilson-Morris
The Entertainment Bank
P: (205) 862-2018
Media Contact
Company Name: MUSIC SPECIALIST
Contact Person: Allen Johnston
Email: Send Email
Phone: +1 404 734 5566
Country: United States
Website: WWW.MUSICSPECIALIST.BIZ