Flag Football for Kids Urges Parents to consider the Benefits of Flag Football to avoid later in life CTE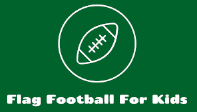 13 September, 2019 – The Dennis M. And Lois A. Doyle Family Foundation announces the launch of Flagfootballforkids.com, an Internet Resource Platform to inform parents about the benefits of Flag Football and the potential harm of contact football to children's brains.
The Dennis M. and Lois A. Doyle Family Foundation runs Flag Football for Kids, an Internet resource platform. They have discovered that parents are many times misinformed about the causes of CTE. They believe professional players got CTE from concussions experienced while playing professionally. But the Doyle Foundation learned that the head blows these professional players received as child football players initiated CTE. That is why they are highlighting Youth Flag football as a healthy gateway to eventually playing tackle football and avoiding CTE.
It is common for children and enthusiastic coaches to focus on tackle football sign-ups to ensure a bright sports future. But research now shows kids in the ages of 8 to 14 should not be playing tackle football since their skeletal structures are not sufficiently developed.
The Doyle Foundation President Denny Doyle said: "Our mission is to protect children's long-term health and prevent head blows at a time their brains are undergoing rapid development." Children gain all of the competitive advantages and discipline required to later play contact football playing from their early Flag football competitions without potential long-term damage to their health.
Dennis M. and Lois A. Doyle Family Foundation is an organization that is championing the cause of using Flag Football for Kids to protect children from falling prey to CTE later in life.
Media Contact
Company Name: The Dennis M. And Lois A. Doyle Family Foundation
Contact Person: Denny Doyle
Email: Send Email
Country: United States
Website: http://www.flagfootballforkids.com/