Caire Beauty Launches "The Grownup Moisturizer", The Next Generation In Its Defiance Science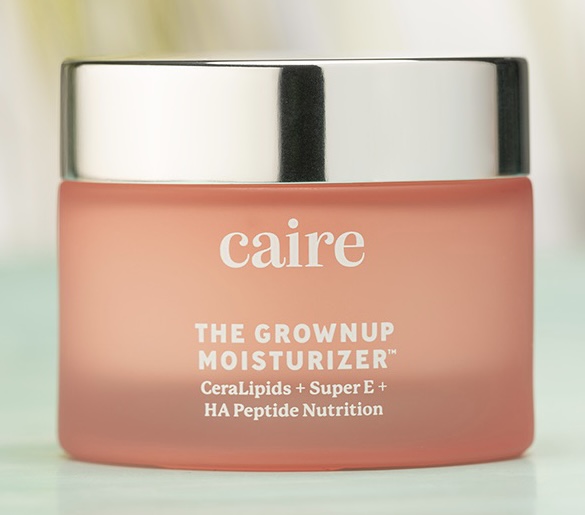 Caire Beauty has just launched "The Grownup Moisturizer", which is the next generation in its DEFIANCE SCIENCE. This much-asked-for moisturizer is a texturally lush, consciously clean, vegan formulation scientifically designed to simultaneously:
Improves the skin from within by accelerating collagen and hyaluronic acid skin cell generation (addressing internal hormone decline caused aging)
Defend and build the natural skin barrier and lipid layer, with Caire's patent pending Ceralipid plant-based, low impact emulsive technology.
The Grownup Moisturizer is beneficial for face, eyes and neck but also the entire body as skin cell generation slowdown happens all over and is not limited to what we see in the mirror. Benefits include immediate improvement in dry skin, irritated skin, diminishment of fine lines & wrinkles, smoother texture, smaller pore size, improvement in firmness, sags & bags with continued usage.
Caire Beauty is a science-backed, female-biology focused skincare company. Founders Lorrie King and Celeste Lee, were in their 40s themselves, when they uncovered that hormone-associated aging – the driver of skin aging in midlife women – was an ignored arena. In partnership with former J&J scientists, they launched the Caire Lab & Brand to create proprietary, clinically verified skincare, designed to counteract the skin cell regeneration slowdown caused by hormone decline.
Caire's brand ethos is premised on belief in age-positive female strength, confidence and capability. Today, Caire Beauty is on the leading edge of a cultural sea change, whereby lifestyle products and services are reinventing how today's woman experiences peri/menopause and midlife.
The official website for Caire Beauty may be found at https://www.cairebeauty.com
Media Contact
Company Name: World Star PR
Contact Person: Jimmy Star
Email: Send Email
Phone: 631-506-6600
Country: United States
Website: https://www.facebook.com/WorldStarPR/