Two products, ePLA-HF and eTPU-Antibacteria, from eSUN took part in the exhibition; Formnext.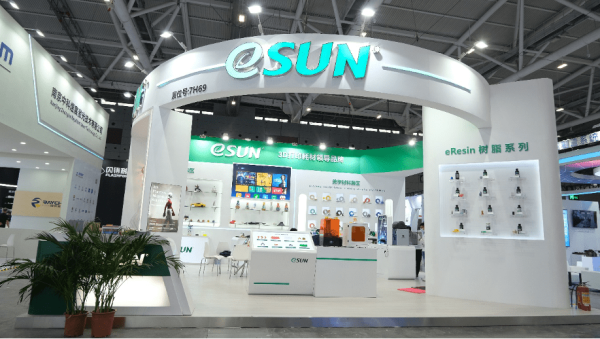 eSUN is the world's leading 3D printer material brand, dedicated to the research and development, production and sales of 3D printing materials. They supply high-quality 3d printer filament, 3d printer resin and accessories worldwide. The following links mention that They participated in the exhibition Formnext 2022 launching their two products ePLA-HF and eTPU-Antibacteria.
High Speed 3D Printing Filament ePLA-HF
2022 German Formnext – https://www.esun3d.com/news/2022-german-formnext/
Shenzhen Esun Industrial Co., Ltd. established eSUN, a well-known brand of 3D printing materials. The business was founded in 2002, and on April 5, 2016, it was successfully listed on the New Third Board.
The eSUN brand is dedicated to R&D, manufacturing, and sales, and it supports the 3D printing industry's thorough development. The business has mastered the manufacture of PLA, PCL, ABS, PETG, and other 3D printing materials that can satisfy various consumer demands. The spectrum of eSUN 3D printing materials is extensive, they function well, and they have many uses. They are extensively employed in areas such as product design, manufacturing in the industrial sector, surgical medical care, culture and the arts, education, and scientific research.
A new kind of biodegradable polymer called PLA (poly lactic acid) is created from starch basic components that are sourced from sustainable plant resources. PLA 3D printer filament has become one of the most widely used 3D printing materials because of its excellent processability and biodegradability.
How to choose the best PLA filament?
The PLA family of 3D filaments is significant because it can be used widely to print a variety of objects and has distinct visual effects and performance qualities. Qualities and varieties of PLA material before selecting an appropriate 3D printing option.
High-speed printing with excellent printability, the print's surface is smooth, has minimal shrinkage, and doesn't distort or fracture, no unpleasant smell will be produced during printing, and eSUN PLA has received FDA certification, making it safer to use are among features of PLA 3d printer filament.
eTPU-95A
TPU material prints easily, quickly produces big, intricate, and accurate prototypes of elastomer parts, and has a hardness of 95A. Outstanding elasticity; printed items made using tpu filament are difficult to distort.
Media Contact
Company Name: ESUN 3D Printing Materials
Email: Send Email
Country: China
Website: https://www.esun3d.com