Favvosee's Biggest Brand Sale Starts November 1st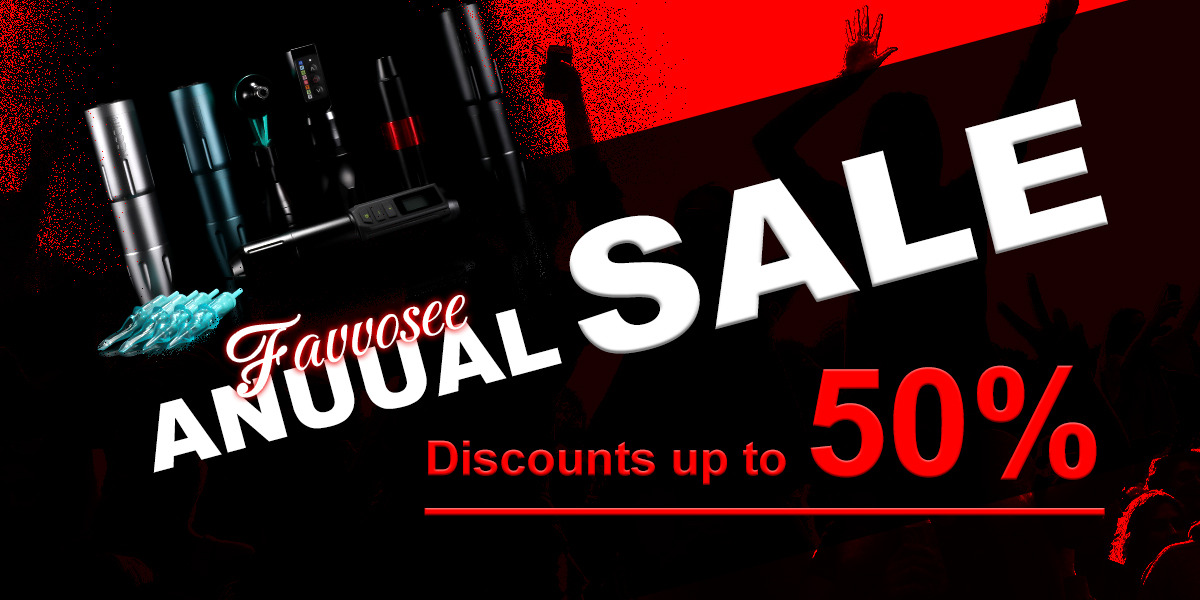 There are discounts on tattoo machines and supplies during the Favvosee brand sale in November. Anyone can complete the collection of tattoo machines at this time. These deals are valid throughout the month, so be sure to take advantage of them. This is the time of the year for the lowest prices!
l The event will run until November
l Tattoo machines and supplies on sale
l Wide range of products to choose from
l Don't miss this opportunity – complete the tattoo machine collection today!
1. when Does It Begin and How Long Does It Last?
Favvosee is back, celebrating the holidays! After the Halloween sale, another new event has begun! From November 1st, everyone can look forward to the Favvosee brand promotion. Favvosee has some great deals this year, definitely the lowest prices of the year. Favvosee has an official website, let's go check it out!
November 1st to November 30th is the sale date. In addition to tattoo machine starter kits, wireless tattoo pens and other tattoo supplies, Favvosee will also be offering discounts during the sale. Take advantage of Favvosee's promotions to help everyone save money or find great deals today!
2. Are There Any Specific Rules for This Promotion?
Favvosee will officially launch on November 1st! Buying a product at a discount is a great opportunity. Guaranteed lowest prices of the year. The best deals from the brand are as follows:
a. All products on this site enjoy a 10% discount;
b. Full discount: the order reaches the specified amount to enjoy the discount;
Over $150 minus $15;
Over $300 minus $30;
Over $500 minus $50;
c. There are free gifts for purchase of designated series products: people who purchase Favvosee HIDDEN series can get a box of 20 tattoo needles as a gift;
d. As long as the conditions are met, everyone can enjoy the above three activities at the same time;
Take Favvosee HIDDEN as an example: Buy Favvosee HIDDEN series tattoo machines and get 10% off plus $15 off, a box of 20 tattoo needles.
Final price of Favvosee HIDDEN purchase: 219-10% discount – $15 discount amount = 182.10
3. What Products Are Included in the Favvosee Brand Campaign?
It's year-end sales season! Favvosee will be running a branded promotion on November 1st. Favvosee is also offering some great deals on tattoo pens and supplies this year. When the product goes on sale in November, Favvosee will offer the following products as part of the Favvosee brand:
– All tattoo machine kits
– All tattoo machines (wired and wireless)
– Consumables such as tattoo needles, tattoo ink, tattoo transfer paper, etc.
– More information can be found here!
At Favvosee, tattoo lovers can enjoy the brand's November sale! During November, Favvosee, a leading supplier of high-quality tattoo machines and supplies, will hold its biggest event of the year. Take advantage of this opportunity to buy tattoo machines and supplies for a very low price. There will be a variety of products offered by Favvosee, ranging from beginner to professional. Don't miss out on this great opportunity to get great deals on tattoo machines and supplies. Details of the event can be found on the Favvosee website!
About Favvosee
Favvosee is one of the leading suppliers of tattoo supplies and equipment. Tattoo machines, tattoo kits, needles, tattoo inks, and other tattoo equipment are available from Favvosee. Each Favvosee product is made with the highest quality materials, has a mature production process, is free of harmful substances, and guarantees quality performance. Through competitive prices and superior quality, Favvosee is committed to providing exceptional customer service satisfaction to everyone.
Media Contact
Company Name: FAVVOSEE
Contact Person: Wendy
Email: Send Email
Phone: (646) 541-6490
Country: United States
Website: https://favvosee.com/