Female R&B singer, songwriter, and performer, Gray-Lou sets to release new hit single on major streaming platforms
Gray-Lou, the "full-moon" R&B hit crooner, releases new sensational music and latest single- Never Knew.
The South-Carolina-based R&B songwriter, artiste, and performer, Gray-Lou, is set to release a new single, Never Knew, on all major streaming platforms.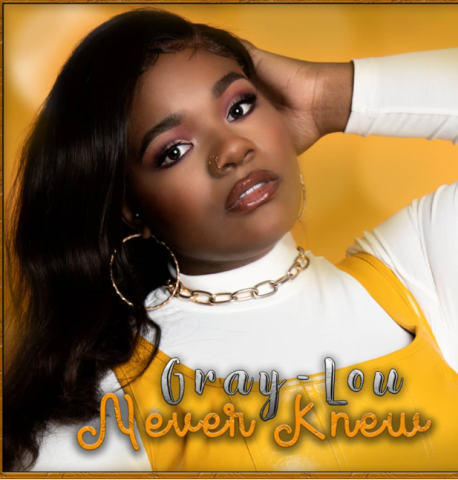 Gray-Lou is a talented artist and songwriter whose unique music incorporates a distinct blend of R&B and instrumentals.
Gray-Lou is determined to produce exclusive sounds, although having about a decade of music experience.
Not everyone gets the luck of finding their paths early. But, fortunately for Gray-Lou, music has been a generic "thing: that has since run through the family bloodline. Having a family and siblings who are greatly talented in both vocal and instrumental artistry is enough to spur her to unleash her potential.
Gray-Lou's music is a testament to her early exposure to classical, gospel, and jazz music.
Music, for Gray-Lou, is not just a chip off the old block. She finds expression in music. In fact, she feels it gives her the privilege to express her emotions, feelings, and perception in a creatively constructive manner.
Gray-Lou's sound- R&B reflects strong evocative emotions, feelings, thoughts, experience, and sensuality. Although she regards great artists like The Isley Brothers, Dvsn, and others alike as a huge inspiration to her R&B sound, she is set out to discover her true signature sound.
However, R&B has allowed her to take this journey of discovery through self-exploration. One of her discoveries would be her special attention to great harmony. In her own words, Gray-Lou said,
"great harmony lines have become my signature, largely because it propels more emotions out of the listeners and sets the stage also"
Gray-Lou has worked with quite a several professional artists including Try Bishop who featured on her new single, Never Knew.
Gray-Lou is vastly known for creating irresistible harmony with sounds. Her latest single, Never Knew isn't an exemption.
Never Knew is a sensational sound that reflects Gray's unrelentless effort into bringing emotions to life through sounds. Never Knew is an electrifying piece, owing to the excellent harmony of R&B and ballad guitar riff.
Never Knew was produced by CSP Music Group.
CSP Music Group is an entertainment firm that deals with production, songwriting, branding, and other entertainment-related services.
The firm is a group of qualified music experts and has worked with the likes of Mary J. Blige, Ditta Huddon, Emcee N.I.C.E. CSP Music Group has locations in Las Vegas, Atlanta, and Minneapolis.
Never knew is no exemption from Gray-Lou's years of practice and exploration. She puts it this way;
"it shows me experimenting with my voice on popular trends and having a good time, without taking anything too serious or thinking too deeply"
Never knew premieres soon and will be available on major streaming platforms. For inquiries and questions, you can send an email via [email protected]
Media Contact
Company Name: Gray-Lou
Contact Person: Gray-Lou
Email: Send Email
Country: United States
Website: https://www.instagram.com/grayloumusic/