A Better Appraisal Experience with AppraiseItNow
AppraiseItNow is a network of licensed appraisers that provides personal property, equipment & machinery, and real estate appraisals in all 50 states.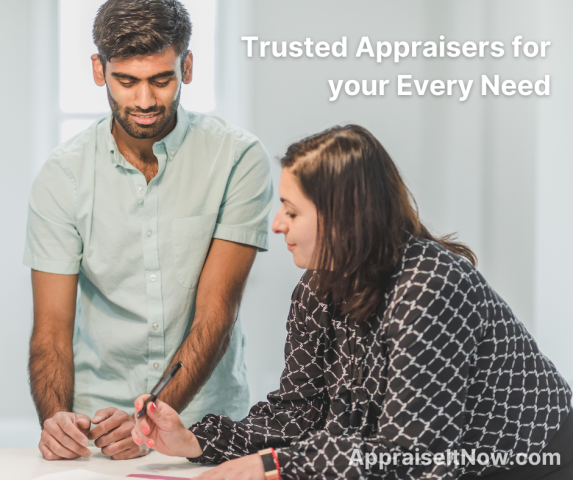 AppraiseItNow provides a better appraisal experience for clients across the country. Before AppraiseItNow, appraisals were intrusive, inefficient, and inconvenient. With a trusted network of personal property, equipment, and real estate appraisers, AppraiseItNow provides a one-stop-shop for appraisals.
The process is very easy. After describing your appraisal needs through the form on their website, the rest is handled. Within minutes, you are paired with a licensed appraiser from their network. Even better, the appraisal is completed within as little as one week. With trusted appraisers, an industry-leading turnaround time, and fair pricing, AppraiseItNow has become the clear choice for appraisals.
No More Searching for Appraisers, AppraiseItNow Does It All
AppraiseItNow is the only nation-wide appraisal service to provide all
three types of appraisals
: personal property, equipment & machinery, and real estate. Their team meets the needs of every client, whether they require the appraisal of one item, an entireestate, or even an entire business.
AppraiseItNow offers
two appraisal methods
: onsite and online. While they provide standard onsite appraisals, they are the only appraisal provider in the nation to also offer fully-online appraisals over Zoom.
Happy Customers are Championing AppraiseItNow
The appraisal experience with AppraiseItNow has customers talking. A particularly happy customer, Kimberly, said: "I needed personal property and real estate appraised for a relative who had passed. AppraiseItNow provided both, which was a service that I couldn't find anywhere else. Thanks again!"
Another customer, William, wrote: "I have been purchasing antiques for years. I met with an appraiser over Zoom, and he identified and valued my antiques with ease. It was a great experience that saved me a lot of headaches!"
At Some Point, Everyone Needs an Appraisal
Personal property appraisals are used to purchase proper insurance coverage for household goods, in probate, and for estate planning, resale, will & trust, charitable contribution deductions, divorce asset distribution, immigration, and damage claims.
Real estate appraisals are used for understanding the value of property, obtaining financing from a lender, pricing a listing, performing investment analysis, obtaining property insurance, getting a tax assessment appeal, and determining divorce asset distribution.
Equipment and machinery appraisals are used for the purchase of proper insurance, equipment and business sales, obtaining financing, collateral valuation review, financial reporting, and bankruptcy processes.
An Easier Appraisal Process than Ever Before
To book an appraisal, visit the AppraiseItNow website and fill out a form detailing your appraisal needs. You will then, within minutes, be paired with a licensed appraiser.
Within days of the appraisal appointment, the appraisal report is sent to your email: an industry-leading turnaround time. From start to finish, the appraisal process can be completed in as little as a week.
All payment and communication is handled through the AppraiseItNow website, so there is no in-person exchange of money, taking a lot of stress out of the process. Also, no payment is due until the client approves of the final appraisal report. AppraiseItNow is a customer-centric appraisal provider, and it truly shows.
Can AppraiseItNow Help You?
If you are in need of a personal property, equipment, or real estate appraisal, AppraiseItNow is the clear choice. Visit their website to begin the appraisal process.
Media Contact
Company Name: AppraiseItNow
Contact Person: Media Relations
Email: Send Email
Country: United States
Website: www.appraiseitnow.com