EventDAO "A Renowned and Game-changing Entertainment Company For NFT World"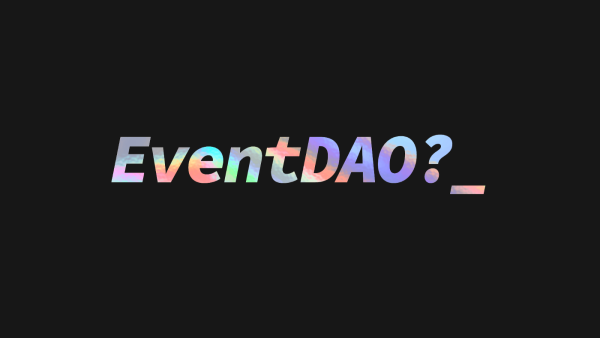 What's EventDAO?
While most of the current NFT market is being led by monkeys, there's a second and more hopeful page that most of us miss, the DAOs. You may have heard of them but if you haven't yet, "basically" they are systems that led by their communities that work on a blockchain with smart contracts and they have safe, fraud proof voting systems that can be used in many ways. Even though there are some popular ones like CityDAO or LinksDAO, the hype isn't here ~yet~, and to catch it when it comes, we'll be talking about EventDAO.
EventDAO_ is a project aiming to become a game-changing entertainment company run by it's holders and with a total supply of 10101, they already have 10K people in their Discord and they are getting crowded everyday!
Idea of the project is creating a system with 3 cards, Owners of these cards will have a vote weight calculated by the quality of card itself, the time you hold it and If its listed or not, with this algorithm DAO will be able to vote what and how it wants things to be done and will also profit from those events.
First card to talk about is the PassCard. With a total supply of 10K, this is the main pass of EventDao and if chosen by the raffle, Card will grant it's owner a ticket and if not, a 40% discount, regardless of the result of raffle, it will get a share of the event profits. The second card we have is the VIP card this card has only 100 copies and will allow it's owners to a guaranteed ticket, profits from event and more vote weight than PassCard and as the last card is CEO card owned by the team but no worries, this card has same vote weight as VIP card.
After the mint is done, holders can access to dashboard, which has 4 sections, let's talk about those.
Profile section will contain your main info, reviews events and tickets, next one is the Governance where you can create and vote on events, this section will be the most active because DAO can vote every single detail they want to! After you vote, you will access to Earnings section, where you can claim your profits and track you income and last but not least, A Marketplace where you can sell your tickets as POAP or buy them from other people!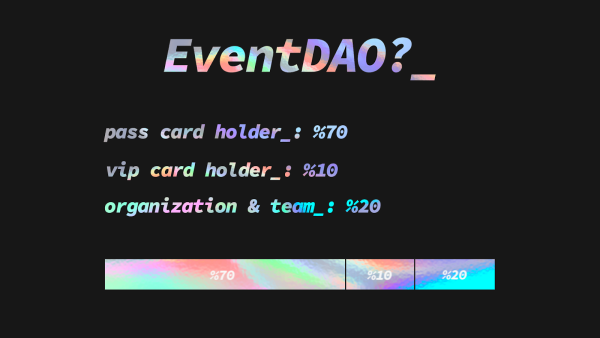 For every ticket that is sold, every holder will get a profit, while %20 is used for team and organizations, rest of the income goes directly to our holders. %10 of income is split to 100 VIP and %70 of income is split to 10.000 PC owners, One thing you should keep in mind is that there are only 100 VIP Cards, Which means, the 7M$ We allocate to Pass Card Holders is divided into 10k, while the 1M$ We allocate to VIP Card Holders is only divided into 100 but your earnings as an EventDAO member will not be limited to cash or access to events… Being a part of a special global community will let you have exclusive experiences, access to high-quality networks. Benefits of EventDAO are limited with your imagination.
More info?
Twitter: https://twitter.com/Event_DAO
Discord: https://discord.gg/gmCm79M6QK
Medium: https://eventdao.medium.com/
Media Contact
Company Name: EventDAO
Contact Person: CM
Email: Send Email
Country: United States
Website: eventdao.io