Coresight Research's Second Annual 10.10 Shopping Festival Goes Livestream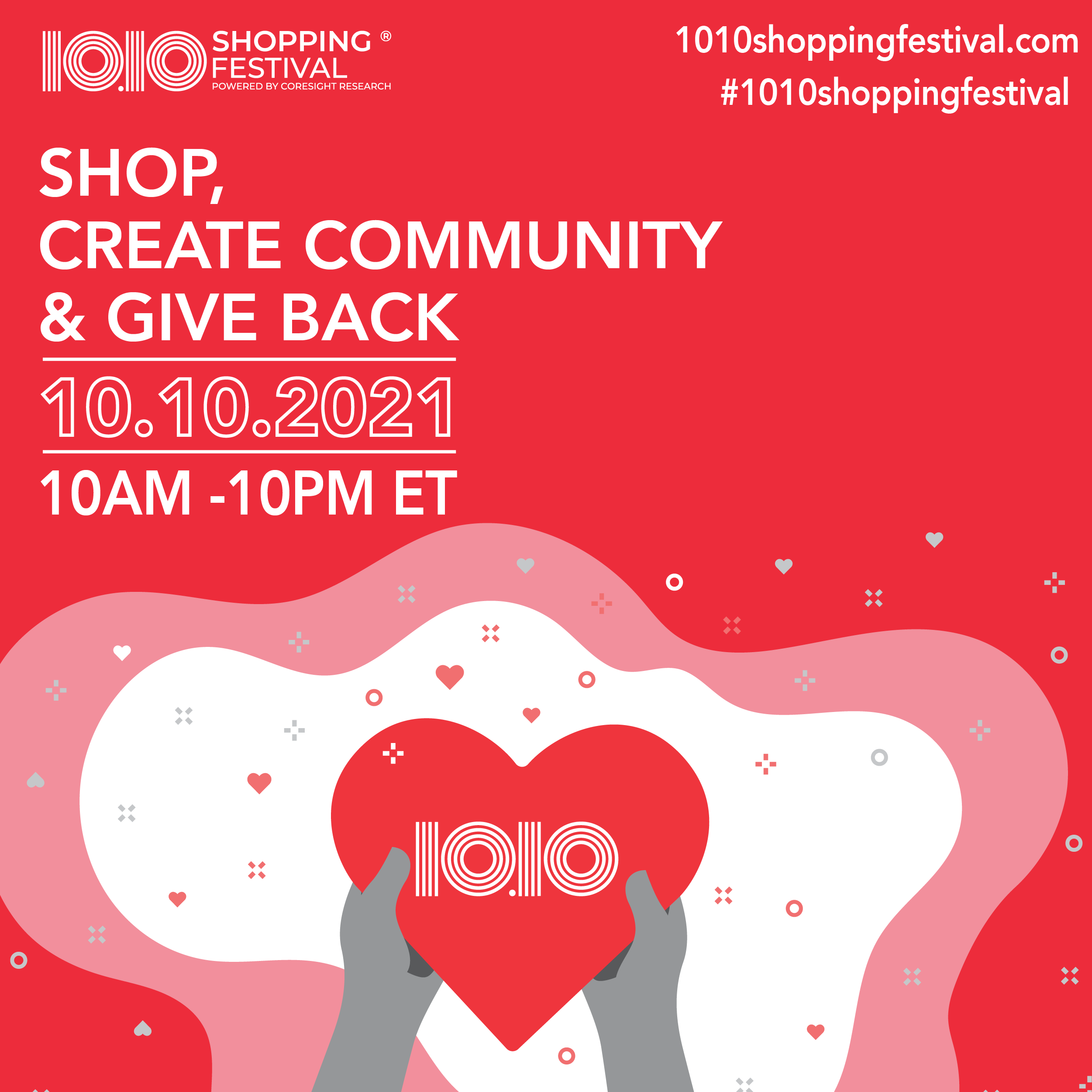 Celebrities and influencers follow the trend of Livestream shopping, contributing to ethical purchasing power by donating 5% to their charity of choice.
New York, NY – October 7, 2021 – Coresight Research will host its second annual 10.10 Shopping Festival on October 10, 2021, from 10 AM to 10 PM EST in partnership with Livestream shopping platforms CommentSold, Smartzer, Firework and 1:1 live video co-shopping platform, GhostRetail. This year, in an effort to bring more beauty brands to the shopping experience, Coresight Research's lead execution partner is Access Beauty Insiders. The 10.10 Shopping Festival features a prominent charitable aspect so consumers and brands can collaborate to make a difference as participating retailers and brands donate a minimum of 5% of sales to partnering charities. Data suggests that consumers increasingly spend money based on personal alignment with retailers and brands of social/ethical/cultural values. In a recent Coresight Research proprietary US shopper survey, 60% of US shoppers state social impact is essential when making purchases. This has sparked the interest of influencers and celebrities alike that will be joining the festivities. Talent participating include:
Phaedra Parks, Jon Gosselin, Caitlyn O'Connor, Erica Rose, Ali Levine and many more.
Charities onboard this year's event include American Heart Association, Delivering Good, National Breast Cancer Foundation, PinkAid, Retailers United, St. Jude Children's Research Hospital, and Soles4Souls.
Coresight's 2021 Festival follows the US consumer trend of Livestream shopping, boasting superior consumer engagement with significantly reduced return rates versus eCommerce. In another Coresight Research survey, 39.7% of consumers shop in live streams for deals, 38.2% to discover new products, 36.6% to learn more about new products, and lastly, 30.7% because the buying is exciting.
Deborah Weinswig, CEO and Founder of Coresight Research, said, "Livestream shopping has grown from a zero to a $300 billion industry in China in a very short period of time. We are very confident that the US market will reach what we see in China, and the 10.10 Shopping Festival will enable retailers and brands to test, learn, and grow this commerce segment. Compared to 2020, Coresight Research estimates that live streaming e-commerce penetration in the US will more than triple by 2023, representing huge growth potential."
"To introduce the US market to Livestream shopping while allowing brands and customers to test the channel by partnering with platforms used by global brands and retailers to make their live streams and videos easily shoppable. We work with over 6,000 retailers already using live selling to connect with their customer audiences on a personal level," said Brandon Kruse, CEO of CommentSold.
Jimmy Furlano, Founder and COO of GhostRetail, added, "The world of retail is transforming rapidly as live streaming video is no longer a novelty, but rather a new online shopping standard. GhostRetail is proud to stand behind Coresight's 10.10 Shopping Festival, supporting a fantastic cause that is both innovative and charitable, and to help participating retailers understand how our 1:1 live video co-shopping platform can add cost-effective video selling to their businesses that are proven to convert eCommerce transactions by more than 7x."
"We are incredibly excited to be part of the 10.10 event, giving brands and retailers access to Smartzer's live shopping technology," stated Karoline Gross, Founder, and CEO of Smartzer.
Sarah Williams, on-air host, and performer seen on Amazon Prime, CBS, E Network, and Yahoo Productions, will be hosting selected sessions of 10.10 Livestream.
Participating Retailers and Brands: 100% Pure, Astouri, Auda B., Beaut, CoFi, DefineMe Fragrances, Fifth and Cherry, Gladys Tyler, goodMRKT, Guess?, High on Love, Immunocologie, Longaberger, Macy's, May11 Hair, My Skin & Co, Neighborhood Goods, Organic Apoteke, Organic Candy Factory, Purlisse Beauty, Retail Pride, Skin Authority, T3, Urban Savage, and Vera Bradley.
To view deals for the 10.10 Shopping Festival:
https://docs.google.com/document/d/1GoRSyllQd33jTBQq-7j28zNlBIWNfOcnCBw7ynmiWz0/edit
To participate in the 10.10 Shopping Festival or for more information on the event, visit http://1010shoppingfestival.com/.
Media Contact
Company Name: Kelly K Public Relations
Contact Person: Kelly Springer
Email: Send Email
Phone: 626.252.4416
Country: United States
Website: www.kellykpr.com