Founders Of British Dog Brand Wufwuf Announce Sister Mymeow Package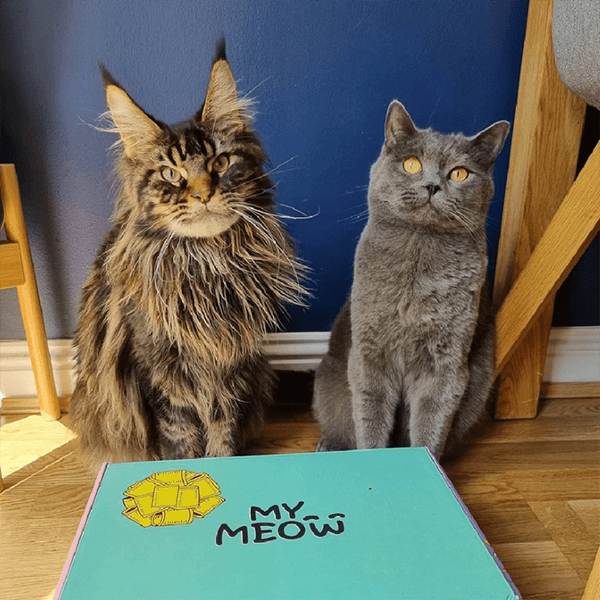 WufWuf, the no. 1 subscription box brand in the UK, today announced the release of a box for cats-, MyMeow. This new monthly package will include toys and treats and be priced at £22.90 per month. It promises equally exciting monthly themes as its WufWuf counterpart.
WHERE DID THE IDEA COME FROM?
With over 10,000 customers in 33 countries at present, WufWuf founders Umut Ilhan and Caner Bayraktar are eager to respond to the customer requests – a box to satisfy their cats. 'We have been thrilled to see the growth of our dog-dedicatedfamily,' says Ilhan about the WufWuf brand. With the pet industry having seen unprecedented growth during the course of the pandemic, Ilhan believes creativity and strategy that made WufWuf a success, can be used to 'satisfy our feline treasures as well'.

Over the past two years it has emerged that cats have taken a liking to those boxes originally intended for dogs. 'Many of us also being cat parents noticed them playing with them, [and] 'liking to squeeze into them' says Ilhan. This idea then appeared to 'create one just for cats with a scratcher at the bottom, a hole to punch, and lots of treats and toys'. It took 6 months', he says, 'and we are finally ready to meow.'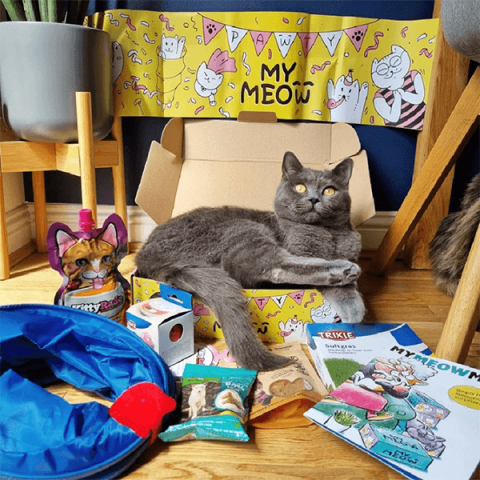 WHAT'S WITH THE BOX?
The monthly subscription will contain 5+ items approximately £40 in value. MyMeow promises that 'nothing will be wasted on delivery,' as the cardboard box itself is 'designed for cats' . Each box features a scratch-plate for their amusement and for the safety of the sofa.
CATS NEED TO PLAY TO STAY HEALTHY
An enhanced interest in the pet industry reflects the need for more animal care and attention than in pre-COVID times. According to PDSA, 51% of UK adults own a pet, of which over a quarter are cats. Despite their cool and confident reputation, many have shown increased anxiety and stress during the pandemic than before, owners reported.
Cats can pick up on any turbulent feelings and need frequent interaction. Play helps weight management and digestion – a healthy outlet for their predatory instincts and is a boredom reliever. With people's work schedules often very full, Umut believes MyMeow can provide cats with the crucial care and stimulation cats need to stay healthy.
Watch a MyMeow commercial on YouTube: https://www.youtube.com/watch?v=vLp_8J6cOe4.
ABOUT WUFWUF LTD
Since its formation in 2018, the company has secured around £600,000 in investment as of April 2021. Recently it added 8 fresh faces to its growing team. It currently designs its products in-house in the UK – the WufSalad being an innovative piece for dogs aimed to slow the pace of eating. With a strong UK customer base, the launch of the company's B2B sales channel has enhanced exports to all EU countries, Switzerland, Japan and Israel.
Wufwuf keeps growing through its genuine passion for the welfare and entertainment of pets.
Press Contact: Tanika Lane [email protected], Andrew James [email protected].
Media Contact
Company Name: WUFWUF LTD
Contact Person: Andrew James
Email: Send Email
Address:197 Lower Richmond Road
State: England, TW9 4LN
Country: United Kingdom
Website: https://mymeow.co.uk/