Tina Rez: A Life that Gives Credence to the Saying "Dreams Come True"
The self-acclaimed next Aussie Pop Princess, Tina Rez, has exemplified a life that validates the saying – dreams do come true
Humans are wired with the intrinsic desire to succeed, a journey that begins with a dream that forms the object of pursuit. Nevertheless, due to a wide range of factors, limitations, and hindrances, not every dream materializes into reality. For singer and songwriter, Tina Rez, the narrative is different. She approaches her dreams of becoming a Popstar with a sense of purpose, shutting the loud, deafening cries of distractions and setbacks.
"It takes courage to get up and show up every day, to keep going, and to follow your dreams even when those around you put you down. I once wrote about my dark experiences but this is not the energy I wanted to bring across as an artist. I believe music shouldn't just be about our dark times but music should also move our happy nerves and that's the energy I want to spark all over." Tina Rez said.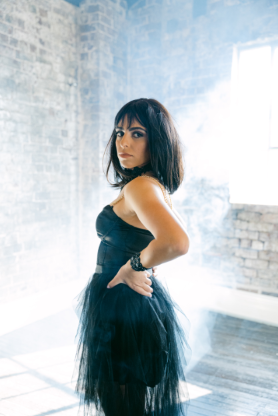 Many times in the pursuit of the fulfillment of dreams and aspirations, hurts from loved ones pose as hindrances and setbacks. Tina Rez is not alien to such scenarios as she has been a victim of painful and traumatic experiences in the past. "I have learned to let go of what made me today and focus on being present, celebrating and living in the moment, and being a little cheeky. After all, music is my happy place and I want to spark my happy energy onto everyone." She added.
In 2019 at the beginning of her career, Tina learned a valuable lesson when she was scammed by a studio in Sydney. Though the singer wasn't moved, she expressed her grievances at the sad event. In her own words, "I am not upset. I am glad this happened. I just cannot believe how people like them can take advantage of those new to the music business. I hope they are not doing it to other artists. It is so sad."
She would be releasing on 25 June a new single titled "Love Dilemma", a cheeky love song inspired by 80s – 90s disco that gets one in a groovy mood anytime. According to Tina, "It's a song you can play on repeat and never get bored of." This single marks the rebirth/rebrand of Tina Rez. She has a lot up her sleeve and is determined to climb the ladder to success in her pop career.
About Tina Rez
Tina Rez has always wanted to become a pop star. However, since she was a kid, she has faced many obstacles that stood in the way of chasing her dreams. She believes her past experiences shaped her and gave her the strength and courage with which she drives today.
Tina has developed personally in the last few years and is now working with one of the best studios in Sydney – Studios 301, home to well-known and established artists. Working alongside producer, Simon Cohen and top-liner artist, Erin Marshall, as a team they are creating some exciting groovy music.
Media Contact
Company Name: Tina Rez
Contact Person: Media Relations
Email: Send Email
Phone: +61 418 661 639
Country: Australia
Website: https://www.tinarez.com/