Chung Jin Biotech launches two types of bee venom peptide cosmetics
Video Link: https://www.youtube.com/embed/afigMd6yyd4
Chung Jin Biotech Co., Ltd. (CEO Kim Choul-Goo, hereinafter Chung Jin) co-developed a bee venom collector and honeybee artificial insemination instrument with the Rural Development Administration and has been exported them to overseas as well as domestically, while selling purified bee venom which is developed as a related project with the Rural Development Administration and is sold as raw materials for oriental medicine, livestock farming, and cosmetics for the past 10 years.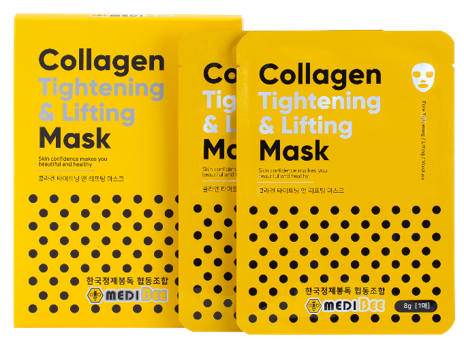 Purified bee venom is composed of melittin (45-65%), apamin (2.0-3.0%), and phospholipase A2 (11.5-3.0%). Depending on the efficacy and function of each active ingredient, it is used as a cosmetic ingredient because it is effective for wrinkle improvement and skin whitening. Also, it has been known for excellent antibacterial, anti-inflammatory and antiviral effects and is used as a natural alternative antibiotic. In addition, it is used in the treatment of arthritis and neurodegenerative diseases due to its anti-inflammatory and analgesic effects in oriental medicine while being used as a raw material for pharmaceuticals. Chung Jin registered the product at FDA and DMF to verify the safety of bee venom ingredients. (Purified bee venom-27321, Isolated and purified bee venom-27319, Melittin purified bee venom-031645)
In addition, Chung Jin has completed the registration of a patent on the manufacture of bee venom cosmetics through governmental project and R&D of Chung Jin Bio Research Institute, and has recently developed and launched a wrinkle-improving cosmetic product using bee venom as a raw material based on the achievements made through the governmental project.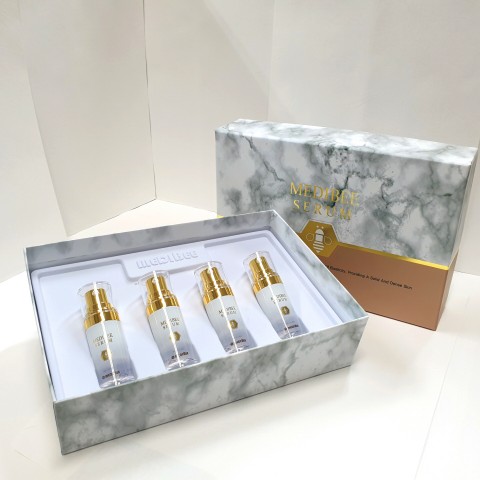 MEDIBEE Collagen Tightening & Lifting Mask is a hybrid gel mask that combines two functions into one to give the best synergy effect. (Patent-10-2024167) It contains bee venom peptide to help skin lifting and improve wrinkles, and contains marine collagen and marine elastin, which are components of the dermis, to fill the skin densely. It has been certified by the European Cosmetics Standard (CPNP) and is currently exporting to the European market. (Mask Ref.3196099/ Serum Ref.3352987)
In the case of MEDIBEE Serum, natural melittin peptide, royal jelly, and natural plant extracts, which are natural ingredients extracted from bee venom, are used to quickly soothe the skin, give elasticity and help improve wrinkles, and revitalize tired skin by vitalizing it.
Melittin, which accounts for 40-50% of purified bee venom, the main ingredient of MEDIBEE serum, is a natural active peptide that has a resistance power against harmful substances, reduces wrinkle, soothing and reduces sebum generation while leaving no toxicity and no risk of residuals; one should mix powdered bee venom and serum ampoule right before the use to maximize the active ingredients of bee venom.
Since bee venom in aqueous solution stay effective for up to 7 to 8 days, its package was specially manufactured as a double container so that the container of the product can be used for 7 days, and a patent was applied for this.
Currently, by participating in international exhibitions and governmental support projects for the market development, Chung Jin is expected to be a manufacturer specializing in bee venom cosmetics and expand the overseas market.
Media Contact
Company Name: Chung Jin Biotech Co., Ltd.
Contact Person: Kim Choul Goo
Email: Send Email
Phone: +82 31 409 3707
Country: Korea
Website: https://www.gobizkorea.com/user/goods/frontGoodsDetail.do?goods_no=GS2019031462273&ctgryCode=S0800200190000&upperCode=M0800200000000&goodsNms=MEDIBEE-Collagen-Tightening-Lifting-Mask