Korea's leading Automotive maintenance equipment manufacturer KOENG enters the global market with Total complete line of vehicle inspection tester
Video Link: https://www.youtube.com/embed/rP9qzlFQ69E
Since its foundation in 1994, KOENG has been producing automobile-related maintenance equipment in Korea and exporting it to more than 40 countries around the world as a partner of major car maker (Hyundai, Kia, Toyota, GM, BMW, Benz, etc.). repair shops.
It has already achieved high brand awareness and received good evaluation from customers in overseas markets thanks to its automotive emission gas analyzer. Recently, through the supply of comprehensive equipment for automobile inspection and maintenance lines, it has catered to the needs of the customers in Vietnam, the Philippines, Indonesia and around the world.
KOENG's total complete line of vehicle inspection equipment consists of Side slip tester (KEA), Roller brake tester (KEB), Speedometer tester (KES), head light tester (KEH), Play detector (KEP), Suspension tester (KEU), Motorcycle tester (KEM), Gas analyzer (KEG), and an Opacity meter (OP). Testing results are displayed in two types of control systems, and KOENG's vehicle control measuring system is a smart and convenient system for vehicle inspection.
Smart con is PC-based control unit that can transmit, output, and manage measured values through a server, and ABS combi. is an economical type control device that can display and manage measured values through LED indicators. It is suitable for inspection center, automotive workshop, and repair center.
Moreover, roller brake testers are provided in two types (high speed-European style, low speed-Japanese style), and are supplied as products that meet the needs of customers around the world. KOENG provides a wide range of sturdy and easy-to-operate system for every vehicle type including cars, commercial vehicles, trucks, buses, tractors, trailers as well as four-wheel-drive vehicle and weight class.
KOENG's vehicle inspection solutions are based on international technical and safety standards.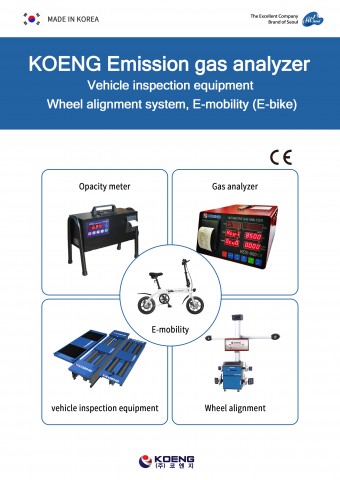 KOENG is an expert in the automotive service equipment industry, and KOENG thriving as the best partner who caters to the needs of customers around the world who boosters their partners' business.
In addition, since 2018, as part of green growth, it has entered e-mobility business (E-Bike, E-kickboard, E-motorcycle, Remodeling kit, Battery pack) and is distributing related products to the Korean market, while preparing the entrance to overseas market.
Media Contact
Company Name: KOENG CO., LTD.
Contact Person: Mijung, Jang
Email: Send Email
Phone: +82 2 838 6300
Country: Korea
Website: https://www.gobizkorea.com/user/goods/frontGoodsDetail.do?goods_no=GS2020070193141&ctgryCode=S0700100080000&upperCode=M0700100000000&goodsNms=Vehicle-side-slip-tester