GGHTx: One nonprofit's innovative volunteering model that has millennials on waitlists to sign up.
"Gracias" Global Health Trips (GGHTx) nonprofit creates sustainable change in Latin America and Uganda with an engaging and fun approach that's become a creative way of volunteering. Avi Kerendian who is the Co-Founder and Program Director of GGHTx shares what prompted him to start GGHTx and lead it to be the global health success it is today.
GGHTx aims to change the context in which thousands of people volunteer around the world. Far from a task that, while comforting, can become boring or even tedious to focus on, GGHTx's volunteer programs incorporate a fun and adventurous tourism aspect to their humanitarian mission trips.
The objective is to team up with local volunteer centers and community-based organizations in developing areas to bring together the volunteers, donations, and necessary resources that local communities need, with an eye towards fostering self-sufficiency. In addition to doing you bit for the underprivileged and needy, GGHTx co-founder, Avi Kerendian, asked himself, why not enjoy the journey as if it were an exciting adventure? An adventure of solidarity.
"If you want an experience that will challenge you daily, allow you to lift others, and have fun, then GGHTx is the trip for you. You're working hard and having fun from the moment you step off the plane until the day you leave. You will never have a boring moment at GGHTx — I can promise that." – Avi Kerendian, GGHTx Program Director
GGHTx's volunteering projects aim to help vulnerable communities in Latin America and Uganda through nonprofit service mission trips that bring together the volunteers, donations, and necessary resources that local communities need. Added Avi Kerendian, "We specifically choose to work closely with local partners because, first, we value humility. Understanding the local culture is a process; we help to provide the volunteers and assistance that the community wants. And, second, our nonprofit's goal from the start is to promote sustainability. That is why we either join our partners' existing projects, or work with them to create new ones – with an eye toward communal independence."


Photo: Patients picking up free medication at the GGHTx clinic in Guadalajara, Mexico (Source: Avi Kerendian)
But what has these young volunteers registering for GGHTx's trips is more than just helping others. These humanitarian medical mission trips are designed within a framework similar to that of a vacation organized by a travel agency. Marked by a schedule, volunteers devote the first part of the day to solidarity aid tasks, designated by the project coordinators, and once they have finished, they can enjoy the facilities, do some sightseeing and get to know the culture of the communities they are working in.
Thanks to GGHTx, it is now possible to live an authentic adventure while helping to create sustainable projects in developing communities. After a productive morning working on all kinds of medical and humanitarian projects, side by side with the locals, GGHTx provides a fun afternoon of extracurricular activities that embrace the life, language, and culture of the places they visit, at their volunteer sites in Latin America and Uganda.
Some of the beautiful experiences volunteers have shared include:
• Horseback riding.
• Roasting marshmallows on top of well-known volcanoes.
• Salsa dance lessons.
• Touring famous, traditional markets.
• Visiting coffee-farms and coffee-tasting.
• Touring ancient Mayan archaeological sites.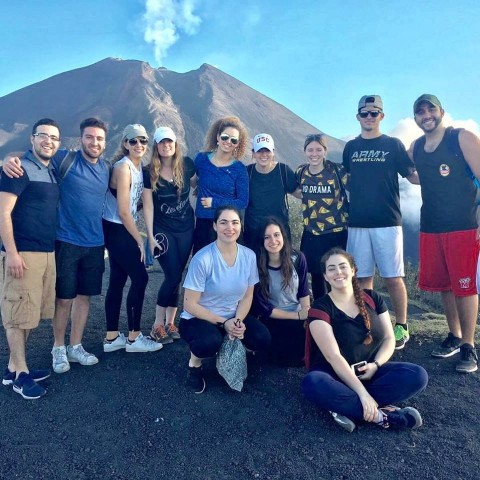 The aim of this innovative approach is to de-stigmatize volunteer work, especially amongst young people, and to motivate more peers to join such noteworthy initiatives. Asked to comment on what prompted this novel volunteering model, Co-Founder Avi Kerendian commented: "Mission trips are an exciting way to travel the world and have a meaningful impact on the communities we visit as well. That is why we created GGHTx. That is why we have more and more young people wanting to make a difference." GGHTx has a proven track record that this neoteric volunteering model works. While some may imagine their dream vacation tanning ocean-side in Miami, others are having one of the most fulfilling experiences of the lives as volunteers on a humanitarian aid trip to Africa. In addition to helping and feeling of accomplishment by contributing with invaluable labor, GGHTx want these trips to be enjoyable and productive. Having fun, enjoying and discovering new places, people, and experiences are not only part of our programs; they are at the core of GGHTx's volunteerism.
Avid humanitarian and philanthropist, Dr. Arash Hakhamian, also Co-Founder and Medical Director of GGHTx had this to say for those seeking to join on GGHTx's future mission trips: "We want to reach as many people as possible, to provide our hard-working volunteers with a safe, exciting, rewarding, and unforgettable trip that will reshape their perspective and their futures. It is an exhausting and emotional trip that will leave you with a deep sense of fulfillment and pride and, without a doubt, it will be a journey full of experiences that will be difficult to forget."
Media Contact
Company Name: Avi Kerendian
Contact Person: GGHTx
Email: Send Email
Phone: 414-570-1581
Country: United States
Website: https://gghtx.org/