Chronicles of a Fourth Delivers A Breathtaking Departure From Conventional Folk Rock
Conceived from beyond the mainstream society, Chronicles of a Fourth is a folk-rock outfit with plenty of chops that blends folk roots with modern styles. Released in May 2020, their latest album, "Open Relationship Blues" is a concept piece that explores a LGBTQ relationship in the entertainment industry.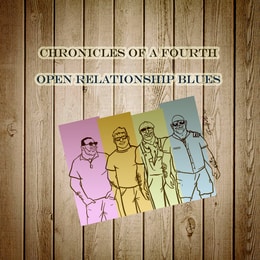 Demonstrating that it is never too late to pursue one's dreams, Chronicles of a Fourth is a project consisting of veteran multicultural musicians Eric Van Aro, Alberto Pinelli, Marcello "Bread" Schena and Antonio "Aki" Chindamo. As highly skilled career musicians, the band has a unique perspective on the world having grown up outside of what many would consider 'normal'. The name Chronicles of a Fourth itself, is a reference to a "third culture kid", or kids raised in a different country than their country of origin.
Possessing unique cultural elements from countries including France, Germany, Switzerland, and Italy, each band member brings a unique voice to the project resulting in a mature sound with a razor-sharp focus on content. Exploring the relationship of two gay men in the entertainment industry living on different continents "Open Relationship Blues" possesses crystal clear, heartfelt vocals atop bounding baselines and triumphant banjo and guitar to create a sound that is as honest as it is energetic. The themes explored in the album ranging from the utmost sorrow to complete elation runs the gamut of what it means for all of us to experience a romantic relationship. It is the cultural diversity and the unique characters in the story that urge listeners to develop a deeper understanding of what we all share as individuals.
Recorded in Auditoria "Open Relationship Blues" is what folk listeners have been waiting a long time for; the ability to hear a different perspective without sacrificing the comforting sound that only folk music can provide. Having already received positive reviews from independent music "Open Relationship Blues" is a breath of fresh air for avid folk-rock fans looking to develop an understanding of variety cultures and lifestyles told through the eyes of individuals who no doubt have experienced diversity. Not once does the album stray from its positive message, and each instrument is recorded with the intent purpose to encourage listeners to truly explore what connects us to humanity.
Fans of Nick Drake, Billy Joel, John Mayer, Bon Iver and virtually any other indie folk staple need not miss Chronicles of a Fourth and their unwavering attempt to expand the minds of its listeners. For more information on the unique musical journey of Chronicles of a Fourth, check out their Facebook Page (https://www.facebook.com/chronicles4) or visit https://eraki.com/2020/04/21/chronicles-of-a-fourth.
Media Contact
Company Name: 3000 Records
Contact Person: Terrance Schemansky
Email: [email protected]
Phone: (888) 463-4336
Address:P.O. Box 285
City: Fenton
State: MI
Country: United States
Website: https://eraki.com/2020/04/21/chronicles-of-a-fourth