Tia Norfleet to Return to NASCAR – Fact or Fiction?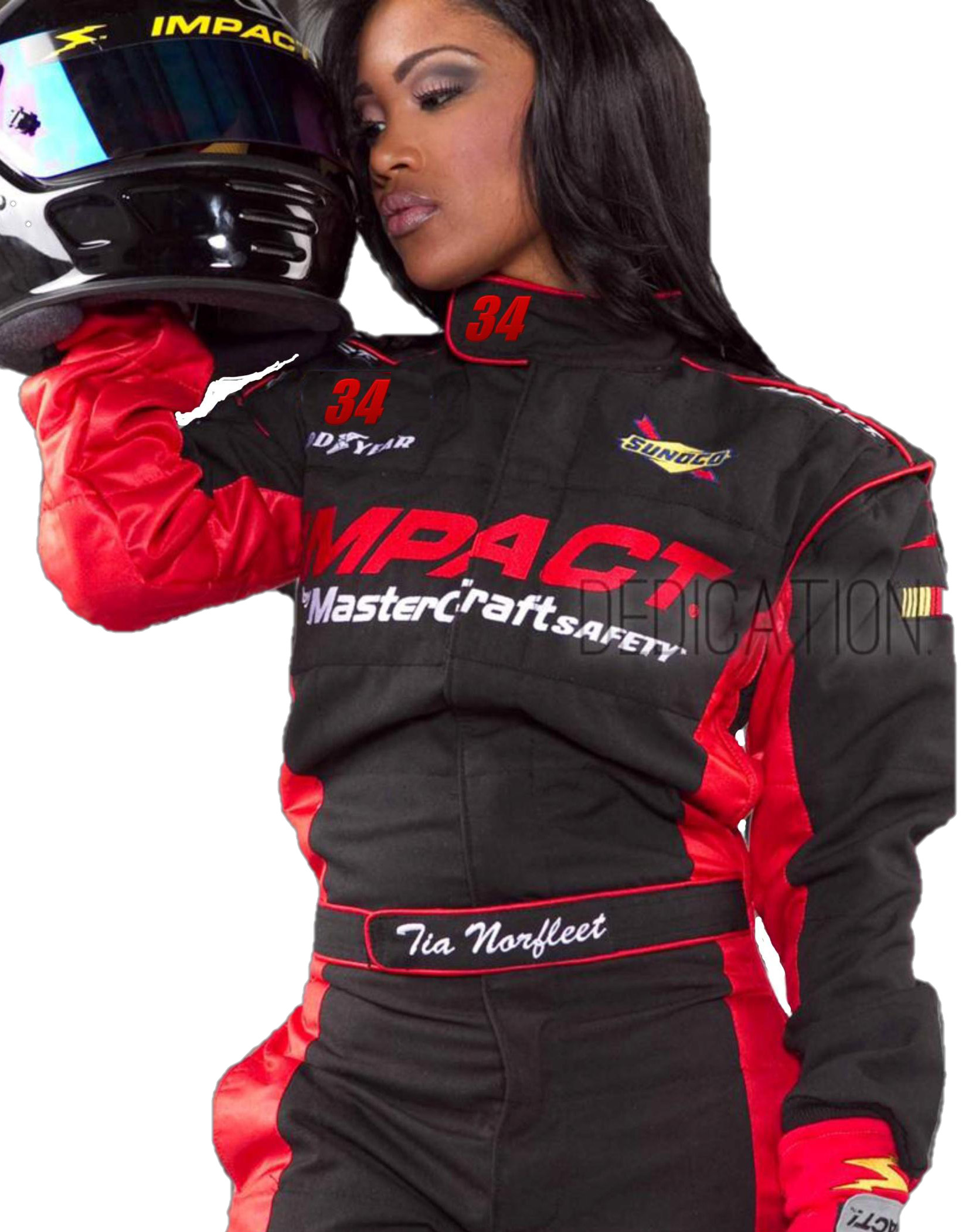 As NASCAR touts their progressive agenda in support of diversity, many remain skeptical… will it be enough to sway the first and only African American licensed female driver back to NASCAR?
Storied motor sports personality Tia Norfleet whose presence in NASCAR seemed to breathe new life into its traditional social and political atmosphere, has endured a complex dynamic within her sport over the years. Especially on a day like today, when NASCAR is pushing a more progressive agenda, Norfleet is watching in the wings as talk of her official return to the track is looming.
Especially since news of NASCAR's first banning Confederate flags surfaced in 2015, NASCAR has declared their 'seeming new hope' for the future of motor sports. However, this mega-brand gave Norfleet push-back when she entered the track, instead of providing the resources and support typically bestowed a racer — or even taking the opportunity to launch an amazing diversity campaign.
A legacy driver, Norfleet was eager to fill her father's shoes — a brave move for such a beautiful woman aspiring to accomplish what no other woman of color had. Norfleet is the first and only African American woman to be licensed for NASCAR.
There was never even so much as a blurb from NASCAR congratulating Norfleet for her historical accomplishment. Instead, NASCAR chose to expose Norfleet's past transgressions in which she had made before even becoming a driver. Norfleet also had publicly regretted and addressed her mistakes as a teachable moment. It's ironic that NASCAR would hold Tia to the fire for something that occurred in her latter teenaged years before she became a driver; especially since a laundry list of drivers battle criminal backgrounds and yet, still drive.
"NASCAR's dynamic with me always seemed combative and dismissive," reflects Norfleet. "I realized I was being treated differently when one of NASCAR'S employees told my sponsors that I wasn't licensed in the sport, knowing very well that I was… I felt anger, disappointment and embarrassment because I was not able to complete my first race due to sponsors pulling out at the last minute."
None of the big brands supported what Norfleet represented culturally. She was so much of what America needed to see. Women globally needed to be inspired by her strength and courage. Men needed to respect her skill and knowledge, and Black America needed to see an awesome breaking of yet another barrier.
"In 2012, I was told I couldn't practice at the Daytona International Speedway during Speedweek because they didn't want me to take the spotlight from Danica Patrick… because they had invested too much money into her. When NASCAR'S Diversity Department told any potential sponsor that I wasn't licensed, it ultimately deterred them from sponsoring me. To this date, I have never gotten a sponsor, and without sponsorship in NASCAR, your dreams just remain dreams," Norfleet continues.
The timing couldn't be more perfect for her return. The powers that be on all levels of government, in corporate America, and even in the private sector have been called to their collective consciences. Maybe now, Norfleet can show the world who she was and who she still is right now.
When asked what would need to happen for her to return to the sport, Norfleet explains, "The best scenario for me would be a complete overhaul of NASCAR'S policies and employees — true efforts for people of color, true diversity and inclusion. Ultimately, I would return only if there is real change and inclusion."
Norfleet has no regrets in this journey that she has endured because she is a positive influence to young black girls who look up to her image in collective social media feeds showing the beauty of them dressed as Norfleet for Black History Month and for Halloween.
"I remain hopeful for the future of the new and improved NASCAR", Norfleet explains. "The cultural impact and spending power of African American people would bring such increased revenues and rich experiences to the sport…if only this change of ideals were true."
Pulling a quote from the late Dr. Martin Luther King, Norfleet says,
"The time is always right to do what is right."
Media Contact
Company Name: ICT
Contact Person: Media Relations
Email: Send Email
Country: United States
Website: www.Iconnectyou.today