3D Poser, the new powerful software with ready to use characters for animators and graphic designers launches on Kickstarter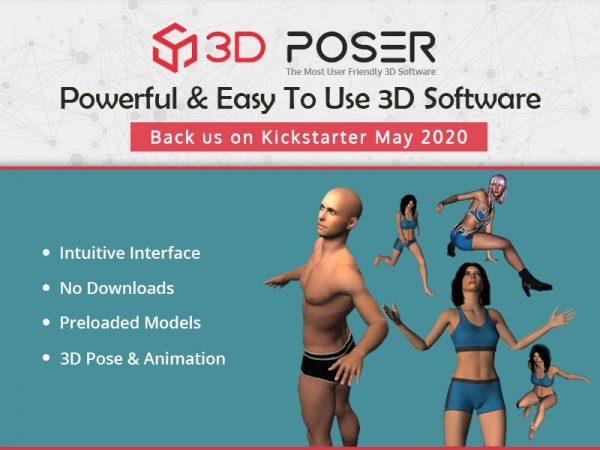 No need to download heavy, cumbersome programs to your hard drive, because the revolutionary new software "3D Poser", will allow one to create amazing characters using the most comprehensive and complete library of high-quality 3D models, pre-set poses, and pre-set animations in the world. The software is recently launched on Kickstarter and with the help of backers, "3D Poser" aims to significantly impact the 3D animation and pose industry by creating the easiest and most scalable solution in the market.
3D poser is created for graphic artists, comic and manga artists, animators, 3D artists, and 3D enthusiasts with ease of use in mind. However, this software isn't just designed for artists or animators. It can be used by- Illustrators, Animators, Graphic artists, Comic book artists, Manga artists, Cartoon & character artists, Fashion designers, Video game designers, Architects, School projects students, Teachers, Parents, and App developers. It can be used by anyone who wants to create some unique and exciting characters with ease, without having to spend a lot of money to buy 3rd party content and countless hours of learning difficult interface programs.
3D Poser requires just a few minutes of learning after which the user can start creating amazing characters from pre-built templates. They will have full access to easy to use tools for making 3D reference and 3D art, to put their creativity to the best use. Created by a dentist and 3D artist Dr. Frantz Brignol, "3D Poser" is a user-friendly tool for everyone to enjoy.
Most animations library and 3D editor software in the world today are cumbersome, complex, and downright difficult to learn and even more difficult to use. It was this very reason that inspired the team of "3D Poser" to create a versatile interface that anyone can use. Created to be accessible, easy to use, and even easier to maneuver, this software is a blessing to the design enthusiasts.
"We've worked hard to create the most simplistic software that is also powerful, intuitive, and available for comic and manga artists looking for reference in their artwork as well as animators and game designers and other professionals. Our aim from the get-go is to empower you to create dramatic and dynamic action with "3D Poser". No big learning curve. It's that simple!" says Dr. Frantz Brignol, explaining the distinctiveness of "3D Poser".
"3D Poser" is cost-efficient and reduces software frustration while saving computer hard drive space. It is better in comparison to its competitors in terms of the user interface, ease in usage, and animation. There is no download necessary to get started, and you just require an annual subscription. It is also environmental-friendly software with a long-lasting design.
The backers of this project will have the option of being listed on a visible page of the "3D Poser" website as a benefactor and donor and will be credited for making this project accessible to millions.
More information about the software and other rewards can be found on its Kickstarter campaign page.
Media Contact
Company Name: 3D Poser
Contact Person: Frantz Brignol
Email: Send Email
Country: United States
Website: 3dposer.com