'HATE CRIME': THE EXAMINATION OF MIDWESTERN HOMOPHOBIA
By Logan Kisner
Los Angeles, CA – Sep 11, 2019 – The multi award-winning LGBTQA drama, 'HATE CRIME', heads for digital release on Sept. 24th.
"Hate Crime", working title of "Heartland", deals with the aftermath of a crime committed by Raymond (Jordan Salloum), who is now sentenced with execution for murdering a young gay man, Kevin (Chasen Schneider). When the clock begins to ticks towards the midnight execution of Raymond, two sets of parents struggle to deal with the consequences of fear and repression as they find themselves on a collision course to confront how this happened and who is to blame.
The email I got about this film was the first time I had ever so much as heard about it, so I would argue that I went in about as blindly as one could. A trailer for the film exists on Vimeo, and I did watch that, but it reveals very little; besides, trailers are a tricky thing, and can be completely contrary to a film's true quality.
As the plot summary previously detailed, and as the title might hint, "Hate Crime" follows the aftermath of the murder of a gay man, Kevin (Chasen Schneider), by another man, Ray (Jordan Salloum). On the eve of Ray's execution, the parents of both men struggle to grapple with what was done and how best to process their individual grief.
First and foremost, I will say that Amy Redford, who plays Ray's mother, is the largest saving grace of the film. Despite an incredibly lacking script, she manages to pull off a majority of her scenes, channeling a very sincere level of grief and anguish. She's channeling her best Toni Collette "Hereditary" for this. I would argue that her and Jordan Salloum's performances are the strongest in the film's, and that Kevin Bernhardt (who plays Ray's father) was the weakest.
For a film that is marketed as looking at both families in the aftermath of a homophobically charged murder, it's actually not entirely accurate. The movie focuses on Ray's family much more than on Kevin's; while that's absolutely fine if the movie wanted to just focus on Ray and his background, but I definitely want to make it known that this is not a film aiming to tackle both sides of an already deeply complex issue.
Kevin and his family are not so much characters but catalysts, objects to bounce off of Ray and his parents and get a plot going. You're not going to find a movie about open gayness in the Midwest here and the complexities of dealing with homophobia, but you're also not getting a "Boys Don't Cry" romanticism of sexual violence, either. It's stumbled onto a middle ground between the two.
I think "Hate Crime" is one of the most bizarre films I've sat through recently. I don't think I can write it off as being bad, but there are a significant number of flaws present that keeps it down. We'll pass over some of the sillier stuff (do homophobic protesters… tend to mix with anti-death penalty people? Did they really have to use stock sound effects for those punches?) and instead focus in on the heart of the film with Ray's family.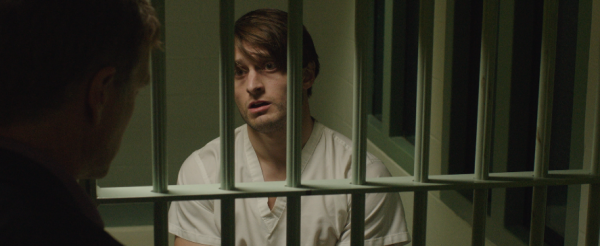 In an effort to not give the whole game away, I will say that as the film goes on, I did appreciate the questions the characters were asking about themselves and each other. The film's strongest moments weren't when it was trying to tackle the politics of the murder, but when it was asking what led Ray to this point?
Towards the end, Amy Redford's character quietly comments, "There's some things you can teach a child, and some things… are just there. You cannot change them to save your life."
And that's always the question, isn't it? Whether or not gayness is innate, or whether it is something we're put into contact with and pick up on. I like this film's cautious approach to that, suggesting that what matters in that question isn't what "creates" the gayness, but how the people around us respond. How our parents, peers, and loved ones act is what molds our relationship to ourselves should we not be cisgender or heterosexual.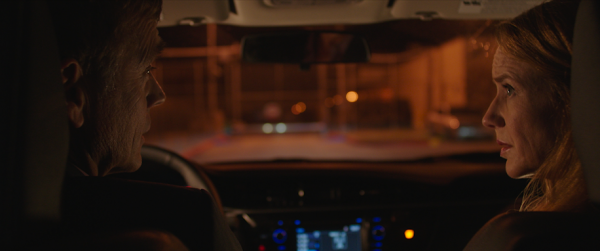 Much like "It: Chapter Two", a film that also came out this month of September and that also tackles why gay men stay in the closet, the goal of "Hate Crime" is to examine how harmful internalized homophobia can be. That self hatred has a tendency to spill over and become weaponized against those around us. Ray's central conflict is whether or not he can come to terms with being gay or not, and things get juicy when the film asks why he has these internalized issues to begin with. Why can some men come out and others can't, when they live in the same time and place?
If you look beyond the melodrama, I think that what the film has to say about conscious and unconscious heritage deserves to be heard. It's well worth examining how things like homophobia are spread down through generations, and how our environments shape us in every considerable way.
While I hold issue with the "homophobic man is actually secretly gay" stereotype often found in film, it doesn't come from nowhere. There's a reason the trope exists, unpleasant though it may be. I can give "Hate Crime" a pass here on this, because examination of this trope actually is a vital part of the plot and it isn't trying to imply that all homophobes are gay; rather, it wants to imply that internalized homophobia has awful consequences.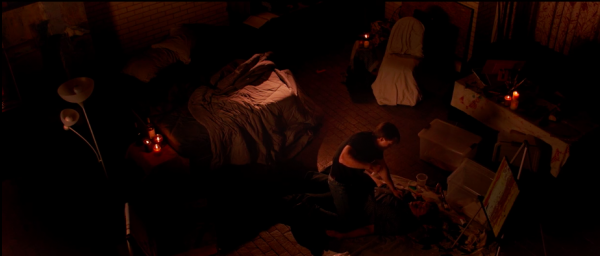 Really, the biggest issues with the film are mostly the technicals. At first I just thought it was the way I was viewing the film (my laptop has a tendency to play things on the quiet side, even with headphones), but as it went on I realized it was just problems with the mics being used. You can tell that the actors weren't allowed to scream or cry beyond a certain volume, lest they blow out the equipment, and so some deliveries end up falling flat. Once or twice, two actors will get into a scuffle, and you can audibly hear their microphones being bumped and grab, and their dialogue will be muffled or muted until the microphone is released.
I think with a rewrite and a higher budget, a lot of my problems would no longer exist. I like the idea of a film tackling homophobia in the Midwest and the general idea of nature versus nurture. Once the film stops trying to balance both families and focused in on Ray's almost singularly, it became much clearer and more interesting.
If you like films that are primarily dialogue driven, and you don't mind some of the flaws that come with lower production value, I think that the point of view of "Hate Crime" is one that is needed. The United States is a large country and very paradoxical, and every gay person's experience within it is unique. If you like films like "3 Billboards Outside Ebbing, Missouri", I would say you would be likely to enjoy aspects of this film.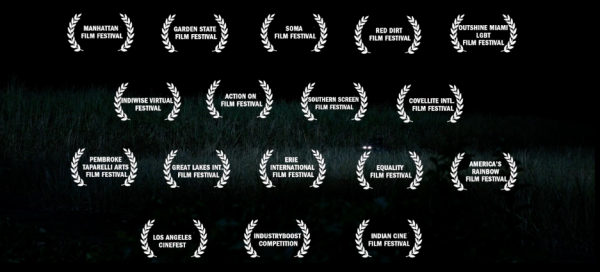 Societal politics of the Midwestern United States has been a focusing point of Hollywood for decades now, and "Hate Crime" aims to continue that tradition. It's heart is in a very interesting- albeit, ultimately good- place.
Watch the trailer for HATE CRIME here: https://vimeo.com/353036867.
TriCoast Entertainment will release HATE CRIME onto various digital streaming platforms on Sept. 24 (Amazon, InDemand, DIRECTV, FlixFling, FANDANGO, Vudu, AT&T, and Sling/Dish). For press inquiries, please contact [email protected].
Starring Kevin Bernhardt (Medieval, S.M.A.R.T. CHASE, Hellraiser III) and Amy Redford (Professor Marston and the Wonder Women, The Guitar, Sunshine Cleaning). HATE CRIME is accompanied by unforgettable performances from Laura Cayouette (Django Unchained, Queen Sugar), Jordan Salloum(Oldboy) and Chasen Schneider (The Secret Life of the American Teenager, Anderson Bench). Read more of Logan Kisner's work here.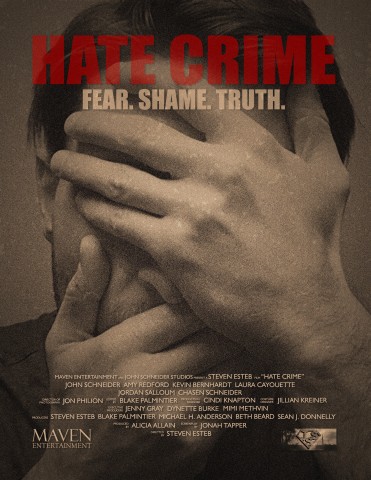 HATE CRIME (2017, 90 min.)Directed by: Steven Esteb. Written by: Jonah Tapper. Produced by: Steven Esteb, John Schneider. Editor: Blake Palmintier. Cinematographer: John Philion. Original Music: Jay Weigel. USA, English. Erath Entertainment, Heartland, TriCoast Worldwide.
Produced by: Erath Entertainment, Heartland.
About TriCoast Entertainment:
TriCoast Entertainment is a premium Domestic Distributor, representing the best of U.S. and international films: in theaters, on VOD, on DVD and TV. Sister company to TriCoast Worldwide and TriCoast Studios, the company is located at the Studio facility in Culver City, Los Angeles.
Founded by: Strathford Hamilton and Marcy Levitas Hamilton.
Media Contact
Company Name: TriCoast Entertainment
Contact Person: Jenna Wilen
Email: Send Email
Phone: 3104587707
Address:11124 Washington Blvd.
City: Culver City
State: California
Country: United States
Website: http://www.tricoastworldwide.com